There is an old saying about sports books: the quality of the writing is inversely proportional to the size of the ball.
In other words, when looking at best sports books, the smaller the ball, the better the book.  To some extent, that was probably true of sports books — once upon a time.
A browse through the library of the best sports books, best rugby autobiographies:
A Good Walk Spoiled by John Feinstein was a pretty good read even if you don't like golf, while I have it on good authority that good books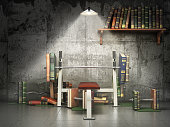 on cricket are plentiful.
On the other hand, unless you were a die-hard fan of a particular club and like reading biographies about one of their players, you'd have been hard pressed to find a book on football (soccer) worth reading. Hunter Davies' The Glory Game and Only A Game? by Eamon Dunphy were among the rare exceptions.
But the tide turned, I believe, around the early 1990's with the publication of Nick Hornby's Fever Pitch.
Literary efforts
Nick Hornby's book, about his life as an Arsenal supporter from childhood right through to becoming a middle-class, Oxford-educated teacher, at a time when football was seen as a working-class game, suddenly opened the floodgates.
Soon after his breakthrough, which was made into a film starring Colin Firth (and remade in the US with Jimmy Fallon – with predictable results), came a slew of highly readable, almost literary books on the game, and ones that went beyond biography.
Pete Davis' All Played Out (also published as One Night in Turin), Simon Kuper's Football Against the Enemy, David Winner's Brilliant Orange and Tim Parks' A Season with Verona became classics of the genre while even the good old autobiography raised its game with books by Tony Adams and Paul McGrath being two examples.
Books on tennis have also had some standouts, such as Open by Andre Agassi.
No balls
Among sports that don't feature balls, my favourites have been books on boxing. Thomas Hauser's books on Muhammad Ali, A Tribute to the Greatest and His Life and Times, seemed like the definitive works; but a better one, covering just the early phase of his career, came along with David Remnick's King of the World. There was also the provocative Ghosts of Manila by Mark Kram and the old classic The Sweet Science by AJ Leibling.
Other books in the non-ball category I have enjoyed reading include The Last Amateurs: To Hell and Back with the Cambridge Boat Race Crew by Mark de Rond and Seabiscuit by Laura Hillenbrand, though I'm not sure I would classify horseracing as a sport — it's an activity that exists purely for gambling, nothing else.
So where does that leave rugby?
The rugby rule
I have read probably every rugby book that is worth reading since the early 1980s, and my conclusion is that the saying at start of this article piece can be modified to: the better the player, the lousier the book.
To be fair, there have been some exceptions, and my impression may have been coloured by the disappointment of reading books associated with some of the best players I've seen.
For example, David Campese's autobiography, On A Wing and A Prayer, was a hard slog; as was Iceman: The Michael Jones Story. The same was true about books by Jeremy Guscott and Jonah Lomu.
This may explain my reluctance to read the books on the best recent players as well, such as Jonny Wilkinson, Martin Johnson, David Pocock. I made an exception with Brian O'Driscoll's The Test: My Autobiography (isn't "my autobiography" a redundancy, by the way?) and found it was no more than functional. Lesson learnt.
What explains this? One reason could be that the very best players have too much to lose (sponsorship etc) from being controversial so prefer to remain bland and non-sensational in their books.
Or perhaps the very top players, because of their natural gifts, have never had to think too hard about how they play as well as they do; whereas the less gifted do. So the less gifted have superior insights into their game, as well as into those of their teammates – a mentality that  then helps them become better coaches.  For evidence of this, look at all the best coaches in the past 30 years:  few were top-ranked players e.g. Eddie Jones, Graham Henry, Steve Hansen, Bob Dwyer etc etc etc.
Outstanding exceptions in rugby autobiographies
One recent exception, though, was the Richie Mccaw biography, The Real McCaw, which was exceptionally good. Perhaps that was because it was co-written with a writer and playwright (Greg McGee).  Maybe that is the way to go.
In future articles, I will write about some of the best sports books I have read, both rugby autobiographies books and in other sports.
As a teaser, I would say the best of the rugby autobiographies  I've read, possibly ever, was Brian Moore's Beware of The Dog: Rugby's Hard Man Reveals All – which won the William Hill Sports Book of the Year award in 2010.  It's definitely worth reading.
Incidentally, another rugby autobiography was recently nominated for the William Hill: Ben Ryan's Sevens Heaven: The Beautiful Chaos of Fiji's Olympic Dream. But more on that next time.
Blatant cross-promotion
For book review snippets, feel free to browse through the best sports books I've managed to write something about.  I'll be creating a page on each of the best sports books and, in particular, rugby autobiographies I recall reading.