Football Against the Enemy was a very interesting, very well written book.  Simon Kuper, also the author of Soccernomics and Soccernomics 2018 (the World Cup Edition), is obviously a fan of the sport, a deep thinker of the game, an astute observer of human behaviour, and a good wordsmith.
He wrote of one wanting to decipher the nature of the football wonder.
"When a game matters to billions of people it ceases to be just a game."
That it's not just a working class sport watched by hooligans was a point he wanted to expound on.
"Enough has been written about football hooligans.  Other fans are much more dangerous."
The dangerous element Simon Kuper refers to here is that soccer has been known to make wars and revolutions.
In 1988, more than half the population of Holland took to the streets when they won over Germany.
Because of the heroics of their national soccer team, the military government of Brazil, in its day, stayed in power a few years longer.
Kuper also alluded to the football war between El Salvador and Honduras, notoriously referred to as the 'Soccer War' or the '100 hours War'.
This incident, by the way, in itself, deserves a whole book!
Just to digress
Honduras and El Salvador were vying for a spot in the FIFA World Cup 1970.  In the first game in the Honduran capital of Tegucigalpa, Honduras won 1-0.  Violence broke out.  In the second game in the El Salvadoran capital of San Salvador, El Salvador won 3-0.  More violence ensued.  A play-off match later took place in Mexico City.  El Salvador won 3-2 after extra time.
That same day, El Salvador dissolved all diplomatic ties with Honduras and then proceeded to invade Honduras.
Here's a succinct video to bring you up to speed:
Why am I digressing on the 100 hours war?
Because this is one of the beauties of reading a really good book.  It compels you to check out further details on information it brought to your attention.
Now back to Simon Kuper and his Football Against the Enemy
Simon Kuper saw the influence soccer had on culture and politics and countries and he pondered:
"My first question, then, was how football affects the life of a country.  My second was how the life of a country affects its football.  What, in other words, makes Brazil play like Brazil, England like England, Holland like Holland?"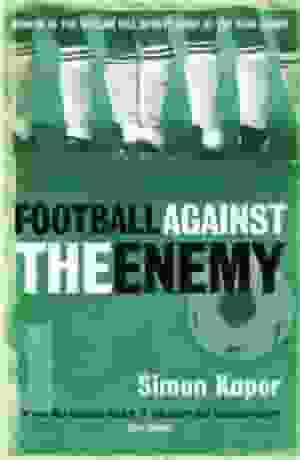 In the pursuit of answers to these in his book, Simon Kuper travelled to twenty two countries (including those that have since dissolved into other guises e.g. Holland, Yugoslavia etc) in nine months.
Football Against the Enemy is thus like a travel log, looking at cultures and their history, to understand the type of football players they produce.  It is part sociological, part history, part travel and part cultural study.
Do I recommend it?  Yes.  Should you read it?
"If you like football, read it. If you don't like football, read it" –  The Times
Football Against the Enemy was Simon Kuper's first published book.  He later followed this up with other titles like his Soccernomics editions.  In these, he looked at the various aspects of soccer from an economics and statistical angle and then expounded on topics like why England doesn't win football world cups; and the economic benefits of hosting a world cup.  This should give you an idea of the type of sports books Simon Kuper has written.
Blatant cross-promotion
Read more review snippets we've done on other sports books.
Cop-out apology:
Direct links to Football Against the Enemy in this article (and any titles anywhere on this website) are not necessarily the cheapest.  The links were chosen either because it was the exact edition that I read, or it is a limited edition, or I just grabbed the first convenient edition.  I strongly suggest you browse round the Booktopia site to get the edition that would suit your reading budget or aficionado proclivities.
Here's a quick and easy link to search for the titles you're after:

Some may even have e-book versions.
You can also search online but I would really prefer you ordered from anyone other than Amazon.  The merchant world of books must be presided over by booksellers who are lovers of stories and books and nurturers of man's flights of fancy and musing.  Their literary emporiums and wares must not be made obsolete by an online mall-type provider that pays minimum to its workers and affiliates.
If it's a bargain you're after, just borrow a free copy from your local library.  Public libraries have my greatest respect for providing one of life's greatest pleasures, freely.  When it is not in their catalogue, public libraries have never failed me in ordering the edition I request.
Support diversity!