Many have asked who came up with the quote John Feinstein used as the title of his expose on golf, "A Good Walk Spoiled".
Some say it was Winston Churchill, others Mark Twain.
For the record, though it is popularly attributed to Mark Twain, the earliest recorded use of the phrase was in 1948.  And Mark Twain died in 1910.
Winston Churchill instead had said "Golf is a game whose aim is to hit a very small ball into an ever smaller hole, with weapons singularly ill-designed for the purpose".
Whatever the case, it was a damn good title for a book on golf, subtitled 'Days and Nights on the PGA Tour'.
  Walking the PGA tour with John Feinstein
A Good Walk Spoiled earned John Feinstein the William Hill Sports Book of the Year.
"A sparkling account… If you only read one sports book a year, this is the one." — THE ECONOMIST
John Feinstein walks us through the PGA tour, following aspiring contenders and top-level names including American golfer Davis Love III,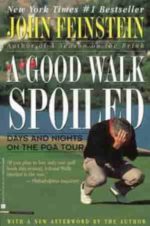 South African-born Zimbabwean Nick Price, Paul Azinger (who later captained the 2008 US Ryder Cup Team) and superstars Nick Faldo (Sir Nicholas Alexander Faldo, MBE, no less), Greg Norman (who, despite having the moniker The Great White Shark, many say chokes at the Majors) and Tom Watson (the first golfer to earn $500,000 in a single season).
John Feinstein gave us a unique insight into the various types of players who made the tour; not all of whom were successful, with many struggling.  The rewards were very high but the unrelenting pressure of a sport that has no off season can undo the greatest among them.
A good read unspoiled
This is a John Feinstein book whose relevance is unspoiled by the years.  It writes of the manic circus that is the professional golf circuit which still holds true today.
I read A Good Walk Spoiled because it was required in my work (as a sports journalist at the time).  It was an all right read, for someone not well versed in golf (I'm more of a rugby man).
That aside, if you are interested in knowing how the different types of golf players cope with the highs and the lows while on tour (from the not-so-talented, to the 'player for the ages'), this is the book to read.  For the fans of golf, you'll be getting a glimpse of what is going on in a contender's head when on the green.
"Feinstein is a brilliant … remorseless digger for information with a gift for establishing affinities with golfers … reluctant to bare their souls … A stunning documentary on the modern professional game" — THE GUARDIAN
If I were an ardent follower of golf, I would probably have enjoyed it more.
And if you are a true fan of golf, and have not read this book, why haven't you?!
Cop-out apology:
Direct links to A Good Walk Spoiled by John Feinstein in this article (and anywhere on this website) are not necessarily the cheapest.  The links were chosen either because it was the exact edition that I read, or it is a limited edition, or I just grabbed the first convenient edition.  I strongly suggest you browse round the Booktopia site to get the edition that would suit your reading budget or aficionado proclivities.
Here's a quick and easy link for a quick search of the titles you're after:

Some may even have e-book versions.
You can also search online but I would really prefer you ordered from anyone other than Amazon.  The merchant world of books must be presided over by booksellers who are lovers of stories and books and nurturers of man's flights of fancy and musing.  Their literary emporiums and wares must not be made obsolete by an online mall-type provider that pays minimum to its workers and affiliates.
And if you're really after a free copy, just ask your local library.  Public libraries have my greatest respect for providing one of life's greatest pleasures freely.