Hunter Davies' The Glory Game – a book worth reading.
At its time, Hunter Davies' novel on the inner workings of the Tottenham Hotspur Football Club was a groundbreaking book.  The Glory Game is reportedly one of the best books on football ever written.
I read it in the Eighties and indeed found it very illuminating.  A lot of what it shared then still holds true now though the game has changed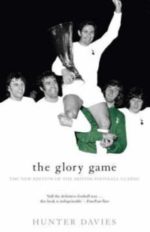 a lot.
Hunter Davies exposes the dramas and tensions that still governs the world of professional football clubs of today, playing at the highest levels.  We get a peek at how a team prepares for games and cope with the ups and downs of a league season.
It must be noted that the context in which Hunter Davies wrote may not be of today's sensibilities.  If I am vague, perhaps an excerpt from his book may shed some light:
"All that was missing to have made it a really smart 1972 middle-class party would have been a few reefers, but footballers wouldn't touch such things. Some footballers might have moved into the middle classes but there are two things they won't have at their parties – drugs and homosexuals."
Despite parts of its dated context, I would recommend this book.  Indeed Spurs fans of that era – Chivers, Peters, Gilzean etc – will enjoy reading The Glory Game – but maybe not about being reminded of how yet again the title eluded them.  Sadly for the them, 57 years after the glorious 1961 season, Spurs have yet to win the title.
Side note:
Hunter Davies also wrote one of the earliest Beatles biographies called The Beatles.
Cop-out apology:
If you find my review on The Glory Game by Hunter Davies brief, you're welcome to comment below on how you found the book.  I promise to publish your review.
Please note direct links to book titles in this article (and anywhere on this website) are not necessarily the cheapest.  The links were chosen either because it was the exact edition that I read, or it is a limited edition, or I just grabbed the first convenient edition.  I strongly suggest you browse round the Booktopia site to get the edition that would suit your reading budget or aficionado proclivities.
Here's a quick and easy link for a quick search of titles you're after:

Some may even have e-book versions.
You can also search online but I would really prefer you ordered from anyone other than Amazon.  The world of books must be presided over by merchants who are lovers of stories and books and nurturers of man's flights of fantasy and musing.  These merchants' literary emporiums and and wares must not be made obsolete by an online mall-type provider that pays minimum to its workers and affiliates.