The Ireland vs England rugby showdown is the most awaited clash of the Six Nations this year, as it has been for the past few seasons. But this blockbusting fixture hasn't always been a tight match-up.
In 1973, at the height of the "Troubles" in Northern Ireland, England travelled to Dublin to play Ireland in the Five Nations (as it was called then, before Italy joined) — something Scotland and Wales had refused to do the year before over safety concerns.
It was not a decision taken lightly with the RFU, the English governing body, consulting a few senior players to find out their thoughts before announcing that England would show up, no matter what.
Victory of sorts on the field
It was a decision that was much appreciated by the Lansdowne Road crowd of 50,000, which gave the English rugby team a standing ovation.
However, England, unlike today, were not that strong a team and they lost 18-9 (two tries to one).
At the post-match dinner later, English captain John Pullin famously said: "We might not be the greatest team in the world, but at least we turn up."
England ahead overall
England have obviously improved over the years.
In over 133 England vs Ireland rugby matches in 140-odd years, they have a winning record of 76-49 against the Irish; with eight matches ending in draws.
However, in the professional era, their rugby clashes have been much closer.
Of the 23 England v Ireland Five Nations / Six Nations matches since the game went professional in 1995, England have won 12 and Ireland 11.
Over the past 10 matches, however, Ireland held a slight edge; winning six to England's four.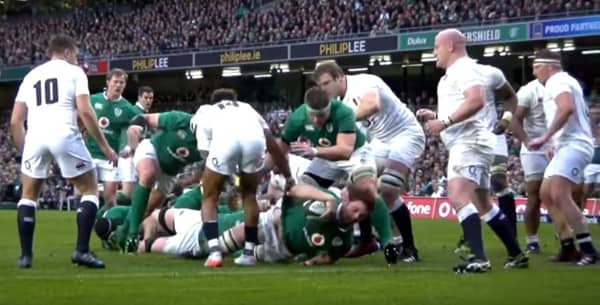 World Cup omens?
What is the significance of these results to the Rugby World Cup 2019, which kicks off in about nine months in Japan?
For Ireland, statistically nothing.
Ireland have never been past the quarterfinals at the World Cup. So there is obviously zero correlation between how they perform at the Six Nations and how they fare at the World Cup later in the year.
However, expectations do get high. 
Such as was the case in 2007, when they won the Triple Crown (a "title" for beating the other three British Isles teams).
Or in 2015, when Ireland were the Six Nations champions.
Which makes their eventual World Cup quarterfinal exit, in those years, even more depressing.
For England, though, the results against Ireland do seem to matter.
Beating Ireland is a good sign
England's best World Cup performances also happen in the years when they are in good form in the Six Nations and that includes beating the Irish.
In their best year, 2003, when they won the World Cup, England had swept to a Grand Slam earlier that year. Their biggest win was over Ireland, by 42-6 — in Dublin.
England also beat Ireland en route to another Grand Slam in 1991, when they made the World Cup final but lost 12-6 to Australia.
The sole aberration was in 2007, when a disjointed England team lost to Ireland 13-42 in the Six Nations but somehow went on to make the World Cup final — after upsetting hosts France in the semifinal.
Losing to Ireland is an even worse sign
Worryingly for England, that 2007 Six Nations loss to Ireland was repeated in the subsequent World Cup years of 2011 and 2015.
England suffered their only 2011 Six Nations loss to Ireland, 24-8. 
And the same sequence occurred in 2015, when England lost 9-19 to Ireland but beat the other four teams.
These coincided with two of England's worst World Cup performances. 
They lost in the quarterfinal to France to end a sorry campaign both on and off the field in 2011. And they did not make it out of the group stage in 2015 — the first time a host nation had failed to qualify for the next round.
In a nutshell, prior to the past three World Cups, England have lost to Ireland in the Six Nations of those years. And their World Cup performances have deteriorated accordingly.
That is the warning for Eddie Jones' men and something they have to check if they are to have any chance in Japan.
For Ireland, history is theirs for the making
For Ireland, well, it's all about repeating last year's great form and carrying it through to Japan. Beating England would be imperative to those plans.
The 2019 Six Nations Championship kicks off on Friday, February 1st, with France vs Wales.
The Ireland vs England rugby clash will be on February 2nd. As well as Scotland vs Italy.
Related posts