Unless you were lucky enough to get tickets directly from each country's rugby associations and clubs, the general public are left scrambling for tickets that are being re-sold on reseller platforms like StubHub, LiveRugbyTickets, Ticketmaster.
And as is the nature of an open market system dealing with a finite supply, demand will raise prices to levels that will make you think twice about losing the farm.
Our recommendation? For the same amount of money, you can enjoy a great game watching it with friends at your local pub or wherever the game is being streamed live.
But if you must attend in person, here are the links to get your tickets:
Don't miss
Ireland's only remaining Six Nations match at home this season is the Ireland vs France clash in March 10th. Don't forget to check according to your local time zone. We've been to pubs to watch a game and found out we did not take into account our location's time difference.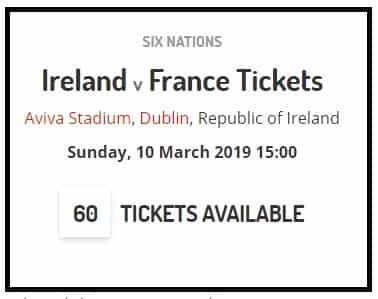 Catch-up readings:
Ireland vs England tickets
Ireland vs England rugby
Irish rugby
Ireland vs France