How fair are the RWC 2019 fixtures?
The Rugby World Cup 2019 fixtures sees the host nation have the best draw of the 20 competing teams. With an average of 6.7 days between their games, Japan will have a time span of 22 days from their first game to their last.
If they don't qualify out of their pool at the Rugby World Cup 2019, Japan certainly can't blame the playing schedule.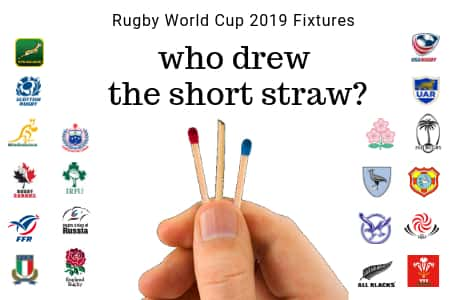 In comparison, Samoa, also in Pool A with Japan, have one of the worst draws in the Rugby World Cup 2019 fixtures. With an average of 5 days between games, Samoa have 17 days in which to complete their four matches. 
Other teams with the best playing schedules are Ireland (6.3 days between games; time span of 19 days); and France, Namibia, New Zealand, Scotland and Tonga (all with 6 days between games; time span of 20 days).
Other than Samoa, the teams that drew the shortest straws in the RWC 2019 fixtures were Canada, United States and New Zealand's main Pool B rivals, South Africa – all of whom have an average of 4.7 days between matches and complete their games in only 16 days).
The best of draws, the worst of draws
Here is a Pool by Pool look (average days between games / time span from first game to last):
Pool A
Pool B
Japan: 6.7 / 22
Ireland: 6.3 / 19
Scotland: 6 / 20
Russia: 5.3 / 18
Samoa: 5 / 17
Namibia: 6 / 20
New Zealand: 6 / 20
Italy: 5.7 / 19
Canada: 4.7 / 16
South Africa: 4.7 / 16
Pool C
Pool D
France: 6 / 20
Tonga: 6 / 20
England: 5.7 / 19
Argentina: 5 / 17
United States: 4.7 / 16
Australia: 5.7 / 19
Wales: 5.7 / 19
Fiji: 5 / 17
Georgia: 5 / 17
Uruguay: 5 / 17
What does this mean? 
Rugby is a tough sport and rest and recovery are essential. So the more rest you have between games, the better you are likely to perform next time around.
In a tournament, then, a good draw can mean the difference between winning the pool or finishing second. Or between qualifying for the quarterfinals or not.
The fair and not so fair in the Rugby World Cup 2019 fixtures
Which pool works out best?
Pool D seems to be the fairest, with all the teams having roughly the same schedule.
But the other pools are not so well balanced. 
In Pool B, South Africa seem to be at a disadvantage compared with toughest rivals, New Zealand. 
Pool C is not bad for four of the teams but the USA may well feel pretty aggrieved. 
However, Samoa in Pool A seem to be treated the most harshly. All their main rivals have much better schedules, with at least one day more of rest between matches. In such a tight pool, as Pool A is, that could make all the difference.
What's the equitable solution?
The problem and how to fix it, as argued in the previous Rugby Union World Cup 2019 article, has a very simple solution:  give the worst schedules to the strongest teams. They have the resources and squad depth to handle the tough programs. 
Or better still, work towards having groups of four. Then all teams can have similar playing schedules and all will be fairer in the world and in the World Cup.
For information on who's playing who where and when, refer to the Rugby World Cup 2019 Schedule page.
---