Is anyone else excited about the upcoming Rugby World Cup 2019 repechage qualifiers? I, for one, certainly am.
As rugby union positions itself as one of the biggest sports in the world, or tries to anyway, one of the best ways of doing this to make the game as much of an open shop as is possible.
The repechage tournament, to find the 20th and final spot in the line-up for Rugby World Cup 2019, is a chance to do just that.
Same old faces
When people think of rugby union, they tend to think of New Zealand, South Africa, Australia and the British countries.  Some might remember to cite football-mad Argentina, Italy and France, as well as the Pacific Island countries.
But either they forget or do not realise that rugby union is played in over 100 countries.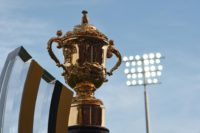 Those really in the know might think of rugby-mad enclaves such as Georgia, Romania, Namibia and even Madagascar.
But so far, same old, same old.
Which is why it is vital that new countries, especially those with large populations, join the rugby family.
In the Rugby World Cup repechage in Marseilles next month, four teams – Canada, Germany, Hong Kong and Kenya – will play a round-robin tournament for a spot at the top table. This will earn them an entry into Pool B at RWC 2019, alongside defending champions New Zealand, South Africa, Italy and Namibia.
Oh, Canada
Of the four teams, the Canadians seem to have the edge, in experience at least, as they are the only ones to have played on the grand stage. In fact, they have played in every rugby world cup so far.
But with all due respect to the Canucks, I am hoping that this time one of the other three – Kenya, Hong Kong or Germany – get their chance through the Rugby World Cup repechage.
All three have been knocking at the door for some time, and getting through to their first RWC would mean many more new fans to the game than would be the case in Canada, whose performances have faded since their sole quarterfinal appearance, in 1991, and where rugby remains a minor, albeit solid, minor sport.
New boys in the Rugby World Cup repechage
Of course, rugby union would also remain a relatively minor sport in Germany, Hong Kong and Kenya. But in what country is football/soccer not the overwhelming, overbearing behemoth?
Kenya have long been crowd favourites and occasional powerhouses on the sevens circuit, and some familiar faces among their 7s stars – Willy Ambaka, Collins Injera, Nelson Oyoo and Samuel Oliech – are on hand to lend their experience and quality to the current 15s campaign.
The Simbas, as the Kenyan rugby team is known, would undeniably widen their popularity on the world rugby stage should they get to RWC 2019. Their qualification would also boost rugby in Africa outside the traditional strongholds of South Africa, Namibia and Zimbabwe, and will probably have a longer-lasting impact than the one made by Ivory Coast in 1995.
Also, Kenya is not a football powerhouse in Africa. And gaining a spot at the World Cup would undoubtedly strengthen rugby union's foothold in the country.
Hong Kong has been a long-time rugby outpost in the Far East, being the home to the best sevens tournament in the world, and have been among Asia's best teams over the past 30 years, running Japan close several times. With parent nation China being wooed to get deeper into rugby union, principally through sevens and the Olympics (an event China tends to prioritise), the entry of Hong Kong into the 15s World Cup would give added impetus to the efforts.
Germany were one of the surprises of the last RWC – and they weren't even playing. What came as a revelation was the record viewing figures for the tournament: the tournament was shown live for the first time on free-to-air in Germany, and achieved a cumulative tournament audience of 6.4 million – an increase of 74 per cent from RWC 2007, the previous time the tournament was played in Europe.
In a country where rugby union is still a fringe sport, though one with quite a history – reportedly losing more national team players in World War II than any other country, and the sport being banned by the Nazis despite having Albert Speer as a big fan — this was quite a feat.
It could be time the Germans made rugby history again.
The RWC 2019 Repechage qualifiers will be played in Marseilles, France from 11 to 23 November.
Nov 11: HK vs Germany; Canada vs Kenya
Nov 17: HK vs Kenya; Canada, vs Germany
Nov 23: Kenya vs Germany; HK vs Canada.
Related posts
===============================