Who's up when, where, against who?
Still unsure of which teams will be playing in the Rugby World Cup 2019, Japan?  When they will be playing?  Who they will be playing? Where they will be playing?  If you're looking for your Rugby World Cup 2019 schedule, here it is!  Taken straight from the official Rugby World Cup website.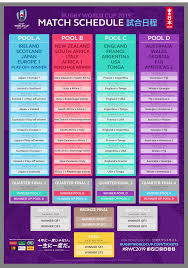 Which pool is your team playing in?
Open the pool-side view in a new window.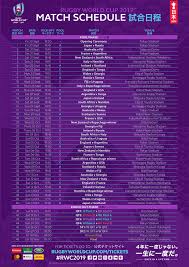 When are the games played? 
See the chronological table view in a new window.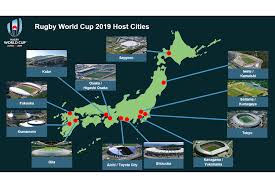 Where are the games hosted?
View the schedule, by city and stadium in a new window.  This is a cool one as it also lays it out for you in a map so that you know just how much of Japan you get to see by attending the biggest sports event in 2019.
Matches to watch in the Rugby World Cup 2019 schedule
Whether you're at home or traversing the length and breadth of Japan following your favourite team  from venue to venue, you will be very much challenged in the planning of your viewing schedule.
To best experience the phenomenon that is the Rugby World Cup, do not limit yourself to just the main matches.  The overall feel can be best gained by attending some of the minor squabbles.
For a suggested itinerary, have a read through our article:
Rugby World Cup 2019 tickets – getting the best bang for your buck.
Need a refresher on topical discussions relating to the RWC 2019?  Have a read through:
Rugby Union World Cup 2019 – it's biggest problem and how to fix it.
Minnows getting another chance at the RWC with repechange.