One Night in Turin, previously published as All Played Out, is Pete Davies' eyewitness account of England's FIFA World Cup campaign in 1990.
It was the closest that England ever came to winning the soccer World Cup again (they had previously won it in 1966).
Until 2018.
In 2018, England reached the semi finals again for the first time since 1990.  Unfortunately for them, they were knocked out in the semi finals by Croatia.
So it is very exciting to call up this book again and re-read the drama that had engulfed a whole nation and changed the character of the sports following in England.
What is One Night In Turin about?
One Night In Turin is really about England's highly charged and dramatic campaign in the FIFA World Cup 1990.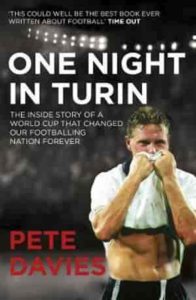 Pete Davies chronicles the whole journey, from the group stages to the knockout rounds, culminating in the semi finals.  It is about the fact that England did not make it.  A story of what might have been. A story that drove a grown man to cry in front of a global audience.  The tensions and emotions that came to play then still haunts some in the nation today.
As an aside, I believe the real game of the FIFA World Cup 1990 was the semi final.  The final of Italia 90 was the worst I've ever seen.  And I've watched them all.  It was a terrible game.
In contrast, the book is lauded as one of the best Football World Cup sports book ever published.  It has been copied many times but never bettered.
Pete Davies gives us a fly on the wall account of a nine-month-long access he had to the team, the players, the manager and even the fans, the agents, the journalists and the hooligans.
The 1990 FIFA World Cup was famous for a lot of crowd trouble involving English fans.  The style with which Pete Davies captured much of this in One Night in Turin was engrossing.
"Pete Davies is incapable of writing a dull sentence. . . one of the most outrageously entertaining books of the year" Daily Post.
Besides being a good sociological study of fan support, the book also covers tactical aspects of England's campaign and all the player intrigues that led to England's best ever performance at an overseas football World Cup (until Russia 2018).
Social influence
Before 1990, football in England was a dirty word dominated by a culture of hooliganism.
In the words of Pete Davies himself, 24 years later:
"That World Cup, … the game in England … Prior to Italia 90, football in England was perceived as a squalid, hooligan-ridden embarrassing sump of gormless violence. Our team was crap, our supporters were worse, and you did not talk about it over dinner. … It simply wasn't a polite topic of conversation, it was an embarrassment."
But manager Sir Bobby Robson led his team through heroic exploits that aroused patriotic fervour and came to unite England in the support of its national football team.
Whereby "… now, it's hard to go anywhere without people talking about it."
It is amusing to note Davies was not necessarily thinking of writing a book on football when he started One Night in Turin (then called All Played Out).  He was only thinking "How can I get to go to the World Cup and get paid for it? Let's write some stories for a New York magazine."
To coincide with the launch of the movie, for which Pete Davies wrote the screenplay, All Played Out was republished One Night in Turin.
I would give this book 5/5 stars.
Blatant cross-promotion
Read of other sports books reviews we have done here.
Cop-out apology:
Direct links to One Night in Turin in this article (and any titles anywhere on this website) are not necessarily the cheapest.  The links were chosen either because it was the exact edition that I read, or it is a limited edition, or I just grabbed the first convenient edition.  I strongly suggest you browse round the Booktopia site to get the edition that would suit your reading budget or aficionado proclivities.
Here's a quick and easy link to search for the titles you're after:

Some may even have e-book versions.
You can also search online but I would really prefer you ordered from anyone other than Amazon.  The merchant world of books must be presided over by booksellers who are lovers of stories and books and nurturers of man's flights of fancy and musing.  Their literary emporiums and wares must not be made obsolete by an online mall-type provider that pays minimum to its workers and affiliates.
And if you're really after a free copy, just ask your local library.  Public libraries have my greatest respect for providing one of life's greatest pleasures, freely.  When it is not in their catalogue, public libraries have never failed me in ordering the edition I request.