What's the story with Fiji and forward play?
In our Nov 12 autumn rugby internationals wrap, we look at Fiji.
Fiji has produced some of the best rugby players ever seen. While the first thought for most people when you mention "Fijian rugby" is seven-a-side rugby, the reality is that they have also produced some outstanding 15-a-side players.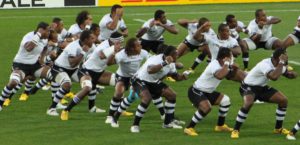 In the past, these have included the likes of Rupeni Caucaunibuca, Viliame Satala, Seru Rabeni, Marika Vunibaka, Jacob and Mosese Rauluni, Seremia Bai, Emori Katalua, Nicky Little and several others.
And these are only the ones who played for Fiji!
As we all know, there have been quite a few others, born and bred in Fiji, who have ended up playing for other countries: Bernie Fraser, Joeli Vidiri, Josevata "Joe" Rokocoko and Sitiveni Sivivatu (all New Zealand), Acura Niuqila, Ilivasi Tabua, Radike Samo (all Australia), plus many others playing for smaller nations, such as Japan (Patiliai Tuidraki) and even Sri Lanka and Malaysia.
More recently, we can cite Waisake Naholo (plays for NZ; born in Sigatoka), Tevita Kuridrani (Australia; Suva), Samu Kerevi (Australia; Viseisei), Henry Speight (Australia; Suva), Nathan Hughes (England; Lautoka) or Noa Nakaitaci (France; Lautoka).
(Note again that these are not players born and bred in the countries they are playing for. Like, say, Keven Mealamu or Rieko Ioane, who are of Samoan descent but who were born in New Zealand. They're Kiwis! Absolutely no issues there)
Fiji and tight forwards
What do all these Fijians mentioned have in common? No prizes for spotting that most of them are wingers and outside backs, with a few loose forwards in the mix.
Despite producing some massive men, what Fiji don't seem to produce are world-class tight forwards; forwards of the same calibre as their faster teammates.
Lots of talent in Fiji, obviously, but everyone grows up wanting to be Waisale Serevi or Noa Nadruku but few wish to do the messy and dirty, but hugely vital, grunt work that tight forwards do.
Which brings us to last weekend's bumper crop of autumn rugby international matches.
Interesting results
England's enthralling 15-16 loss to New Zealand grabbed the main headlines, and deservedly so — England were robbed, in my opinion, as were South Africa the previous week — while Wales threw a monkey off their backs with their less riveting 9-6 win over Australia, and Ireland
warmed up for the All Blacks this weekend with a quality 28-17 win over Argentina.
Nearby, South Africa showed that they will be a powerful force again by Japan next year with an exciting and heartening 29-26 win over France in Paris, while Italy put Six Nations aspirants Georgia in their places with a strong 28-17 win, and USA made history by beating Samoa for the first time, 30-29, in Spain, of all places.
There were a few other interesting matches elsewhere. In Europe, Russia, with flyhalf Yuri Kushnarev winning his 100th cap, comfortably, and surprisingly to me, beat Namibia 47-20 in the countries' first-ever meeting. Tonga, who like I said last week always seem more than the sum of their parts, defeated the French Barbarians 49-38, and Uruguay lost 21-5 to Irish club Ulster.
Further afield, a South American XV defeated hosts Chile 38-21, while in Sao Paulo, the Maori All Blacks beat Brazil 35-3 on their first-ever visit to South America.
Outlier result
Amid all this action, however, there was one result that didn't sit right, and that was Scotland 54 Fiji 17.
Taking nothing away from the Scots, who are steadily improving and are enjoyable to watch under former Scotland and British Lions flyhalf Gregor Townsend, but Fiji were, frankly, disappointing.
Disappointing not just because coach John McKee managed to rustle up a more than decent looking squad for this autumn tour. While much of the firepower was in the backs – no surprises there – they also had a some outstanding locks and backrow forwards who ply their trade in Europe: Locks Leone Nakarawa and Tevita Cavubati, and a tasty backrow of Peceli Yato, Viliame Mata and Dominiko Waqaniburotu.
But something is not quite right, even accounting for the fact both locks were shown yellow cards when Fiji were ahead 15-14. The two tries that they did score — through Mata and Radradra — were things of beauty and showcased Fiji at their best, with backs and forwards interplaying to rip through the stout Scottish defence.
But things went awry thereafter, and the Scots helped themselves to six more tries, including a few any Fijian would be proud of.
One step forward …
The sad thing is that, at the last Rugby World Cup, Fiji's forward play was a level way above what we normally see: the scrum was solid, the lineouts were efficient and they held their own at the breakdowns. It had to be, as Fiji were in the toughest pool alongside hosts England, Wales, Australia and Uruguay.
Unfortunately, the backline for once didn't live up to the forward play, but that is excusable perhaps, considering the opposition they were up against.
The overall report card would have said: Much improved.
Next year, Fiji will once more be up against it, with Australia, Wales and Uruguay in their pool again, along with Georgia. Top-notch forward play will again be called for, and unless they improve, they are unlikely to make their way out of the pool, no matter how good those backs are.
The tight play has to improve, the set pieces need to be taken up a notch, and the ball winning capacity has to be sharpened. I'm not sure if it's a mental issue or one of technique but coach McKee has his work cut out for him.
Coincidentally or not, Australia's forward play yet again came under severe criticism in the Australian media, with calls for the forwards coach to be replaced. The coach? Former Fijian lock Simon Raiwalui, who did seem a strange choice by Wallabies coach Michael Cheika as the man to fix Australia's problem area.
Maybe Fiji and tight forward play truly don't mix.
Do you agree?  Are Fiji's forwards their weakest link?
Repechage watch
The qualifiers for the 20th and final spot at RWC 2019 kicked off on Sunday in Marseilles, with Canada defeating a disappointing Kenya 65-19 and Germany surprising Hong Kong, the highest-ranked team in the repechage, 26-9.
Canada looked good, but only because Kenya, while good in attack, were pretty poor in defence and in shooting themselves in the foot. The prolific DTH Van Der Merwe scored a hattrick as the Canucks, who have played in all eight previous Rugby World Cups, ran in 10 tries to the Simbas' three.
Germany were the biggest surprise of the day, showing a level of organisation and fortitude that proved too much for Hong Kong.
In the next round on Saturday, Hong Kong face Kenya before Germany and Canada square off in what could be the tournament decider.
The winners of the repechage will join Pool B, alongside the All Blacks, South Africa, Italy and Namibia at next year's tournament.
Can Germany stop Canada in its bid to play in its 9th consecutive World Cup?