After four legs of the 10-leg World 7s rugby circuit, the caravan of rugby sevens fixtures this week lands in the glitz capital of the world – Las Vegas.
As one of the hosts of the 2019 HSBC World Sevens Series, the United States share the lead with rugby powerhouse, New Zealand, who had won the previous leg, the Sydney Rugby Sevens, by beating the US in the final.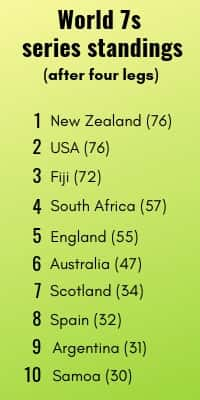 The US are nothing if not consistent, having finished second in all four legs so far. They will be out to break the duck by winning again the only leg they won last year, and will be hoping home ground advantage is what gets them over the line.
As the three-day event begins on March 1, with Fiji (72 points) hot on the heels of New Zealand and the USA (both 76), now may be a good time to take stock of the circuit. 
The top four, remember, qualify automtaically for next year's Olympics. So there is a lot to play for, especially teams currently in positions four (South Africa, 57 points), five (England, 55) and six (Australia, 47).
New Zealand are overdue a series win
The Kiwis, after all, are a team that sits permanently in the very highest tier of the global game.
Of the 19 World Sevens Series that have been held so far, New Zealand have won 12 of them. That's quite a record considering Fiji are generally regarded as the kings of sevens.
However, six of those 12 wins were in the first six years of the series, when the Kiwis' generally higher standards of preparation, infrastructure and funding, and player depth probably gave them a ready-made advantage.
After that initial six-year burst, New Zealand, under Sir Gordon Tietjens, then had another golden period when DJ Forbes and Tim Mikkleson were the stalwarts, from 2011 to 2014.
Others teams then started getting their act together, and Fiji and South Africa have won three series each, while Samoa captured one in 2010, when all the pieces fell into place for them.
So New Zealand has not had a series win since 2014.
Tietjens had a hard time of it in his final two seasons (2014-15 and 2015-16) at the helm. There was talk of players not responding anymore to his brutally tough training, while the bosses at HQ were not giving him enough young talent to nurture.
A disappointing Rio Olympics in 2016, when the Sevens All Blacks failed to win a medal, was a sad end to Tietjens' glorious 22-year reign.
New coach Clark Laidlaw had a tough act to follow, and the Kiwis finished fourth in the series 2017 and third in 2018.
But a corner had obviously been turned as Laidlaw led the team to an impressive double victory in 2018, bringing home a Commonwealth Games gold and a World 7s tournament win.
With that kind of momentum, they started 2018-19 well, winning in Dubai.
But we have since seen them outclassed by the Americans when they were knocked out of the semifinals in the Cape Town leg and the Hamilton home leg.
Sydney saw a return to form as the All Blacks Sevens made amends by winning the Sydney Rugby Sevens.
Samoa are on their way back – sort of
Let's not forget that Samoa is actually a sleeping powerhouse in the World Sevens Series. They've won several legs through the years, including the Las Vegas Sevens twice, as well as World 7s Rugby Series title in 2010.
But after their golden year of 2009-10 when they won the title in style, the Samoans have fallen away badly in the subsequent years. Their highest finish since have been fourth in 2012 and 2013. Placings since then are not worth mentioning.
Enter Tietjens. The super coach moved on from New Zealand and took over the helm in Samoa.
While his first two seasons with the Samoan team saw them finishing 13th and 10th, they were obviously a period of consolidation, a time for Tietjens to learn the ropes in what is a very different setup from New Zealand.
This season, however, sees a noticeable change in the team. 
The players look 200 percent fitter, as can be gauged by looking at the fine shape Alatasi Tupou is in. Tupou, who has been part of the Samoan set-up since 2006, looks sharper and quicker than he ever has and is supplemented by a new breed of athletic players. Unfortunately, Tupou is out of the Las Vegas-Vancouver legs with injury
Results so far have been encouraging.
The Samoans did not make the Cup stage in the first leg in Dubai, but finished on the right note by winning the second-tier Challenge Trophy.
They again did not make it in Cape Town, losing narrowly to South Africa and then upsetting New Zealand, and thus managing to end up in the second-tier Challenge Trophy on points difference. They lost to Argentina.
Tietjens's men finally made it to the Cup tier in the third stop of the circuit, in Hamilton, but lost valiantly again to South Africa. They then beat Canada 28-19 before losing 19-24 to Scotland in the playoff for fifth place.
Let's not bother with their performance in Sydney.
But the Samoans have previously won the Las Vegas Sevens twice.  So this fifth leg may prove a happy hunting ground for Tietjens' men.  Everything hinges on their first match, against Tietjens' former charges, the All Blacks Sevens. A win against the Kiwis should see Samoa also beating Spain and Canada.
With a World 7s series quarterfinal beckoning, Samoa is looking for a winning hand in Vegas.
Spain the surprise packets so far
But not so fast. To the average rugby watcher, Spain may not have the pedigree of the Pacific Islanders of Samoa. But look at the table above, and it may have escaped your notice that the men from Iberia are actually sitting above not just Samoa, but also long-time sevens dark horse Argentina.
The Samoans, in particular, will be wary of Spain, as, in a major upset, the Spanish were the team that deprived them of their expected place at the 2016 Olympics in Rio, with a last-minute win in the repechage final in Monaco.
Spanish coach Pablo Feijoo was a player in that 2016 team, and his current charges have shown the same capacity for surprise and fearlessness, having made the quarterfinals in two of the four legs of the 2018-19 series: Cape Town and Sydney.
Along the way, they have beaten teams such as Scotland, Wales, Argentina, Kenya and Japan, and losing only to the biggest guns of New Zealand, Fiji, England and three times to the USA.
Five of his Olympics teammates are still running around and will be playing in Las Vegas and the following leg in Vancouver: Javier Carrion, Pablo Fontes, Joan Losada, top points scorer Francisco Hernandez and top try scorer Pol Pla, whose 14 tries put him joint-7th in the series overall.
Big things are also expected of Bath under-18 sensation Diego Periel, who gets his first run in the series this weekend.
Spain's best finish in HSBC World Sevens Series was 11th last season. The way they are going so far, they could easily surpass that this year. And with the "home" European legs in London (May 25-26) and Paris (June 1-2) finishing up the series, the armada could well come home with a wet sail.
The US haven't quite cracked the code

Four tournaments and four finals. Unfortunately for the USA Sevens rugby, all four finals have been lost, the latest a 21-5 to the Kiwis.
While people watching from the outside might say, "oh but that's understandable: it's powerhouses New Zealand versus the US – what do they know about rugby?". The fact is that this is a US side that has been promising much but is just not taking that final step.
Since their breakthrough win at the London Sevens in 2015, the USA have looked the goods at parts but yet have fallen apart when it matters in every season – as the past four legs have demonstrated.
While the Hamilton final was a hammering by a Fiji team in good form, their meeting in the Cape Town final hinted that it may be a mental issue.  The Americans had the possession and had the personnel, but all of them froze, including star flyer Perry Baker, who inexplicably dropped the ball cold under little pressure.
Make no mistake, the ingredients are there. 
Madison Hughes, Danny Barrett, Ben Pinkleman, Martin Iosefo and Steve Tomasin would hold their own in any company.
Baker is a star turn, though he is now out for a while with a broken jaw sustained in Hamilton. 
Carlin Isles is incredibly fast and virtually uncatchable when given space, but he tends to panic under pressure and doesn't have as good a rugby sense as Baker does.
Folau Niua is, for some reason, spoken of highly. But to me, he is a bit of a weak link, being poor in defence and often throwing the wrong pass and not executing his throw-ins well. He may be a good dogsbody for the team, taking the kicks and doing the throw-ins, but maybe it is time to groom a better dogsbody.
Fiji could be unstoppable
Fiji Sevens rugby are almost always there or thereabouts when it comes to any World 7s rugby tournament. But throw in the word "Olympics" and the excitement level goes up to 11.
This is no doubt due to their historic Gold Medal win in Rio in 2016, the country's first medal of any hue and cause of one of the country's proudest moments.
The Fiji Sevens rugby team will be keen to repeat the act, naturally, but qualification is a must first. Only hosts Japan are guaranteed a spot in next year's 12-team field.
With the top four teams in the World Sevens Series qualifying automatically, there is no doubt Fiji will not be leaving things to chance and will try to wrap things up as early as they can. Two wins in four tournaments is not a bad start.
There is probably no conceivable way Fiji won't make it. Besides the World Sevens Series, there are also regional qualification tournaments to qualify through, and only Samoa and at a stretch Tonga are strong enough to stop them.
But in terms of getting the mindset right, and to start the Olympic journey on the right step, automatic qualification is a priority. So other teams in the series should beware.
World 7s rugby series standings  (after 4 legs)
After four tournaments out of 10 in the World 7s series, USA and New Zealand are leading.
For the Las Vegas 7s pools and fixtures click here.