Fijian rugby sevens wins again
Continuing on from our Nov 5 world rugby wrap, Fijian side Daveta won Asia's oldest rugby tournament, the Singapore Cricket Club rugby sevens, for the seventh time,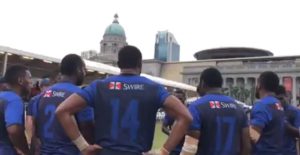 beating Australian team Casuarina Cougars 14-7 in the final.
The Fijians, a club side that focuses on developing young Fijians for elite rugby, were dominant on their way to winning 70-year-old tournament — which former New Zealand All Black Eric Rush once described as being as tough as the Hong Kong 7s once you get to the quarterfinals (at the time he was playing, that is).
Coached by former Fijian 7s playmaker Jiuta Lutumailagi, Daveta beat hosts SCC 12-5 in the quarterfinals and French side Stanislas 52-0 in the semis to win the Ablitt Cup for the first time in five years.
In the final, centre Leveni Tani scored two tries while team-mates Josevata Malimoce and Aseri Vatuinaruku scored a try each. Voted Man of the Final was Mesake Varo while Tani picked up the Player of the Tournament award.
Daveta will now go on to Kuala Lumpur, Malaysia, to defend their Cobra 10s title this weekend.
A sporting lesson by Rush
Speaking of Eric Rush, I remember one year when his team, an invitation side called Kaitake, were playing Cambridge University in a knockout match.  Early in the game, a Cambridge player was sent off for a (marginally) high tackle.
Of course, in sevens, 7 vs 6 is almost always a no-contest, so the predominantly pro-English crowd was naturally disgruntled.
But Rush, arguably New Zealand's greatest-ever sevens skipper, allowed his side to build up a decent lead — three tries to nil, I think — before instructing one of his players to sit out the rest of the match so that the crowd could watch a good contest between two of the favourites.
Cambridge did make a good fist of it, and narrowed the gap, but not by enough and Rush's side progressed safely to the next round.
It was a good touch of sportsmanship on Rush's part, I remember thinking, but with a strongly pragmatic side i.e. first he made sure his team had a substantial lead, then he evened up the numbers to give the crowd what they came for:  a good contest.
Which is why he is fondly remembered as one of the good guys, one who often finished first.